DFW in LAX: Or, the Story of How I got onto the Court of the NBA All-Star Celebrity Game
So, the last few weeks were a bit tough, but this last weekend, which I am still recovering from, was amazing. So amazing I lost my voice!
My lady knew I had to be in LA this weekend, and the only flight that worked was on Valentine's day. Whatta lady I got! I fly out early Wednesday.
I get to my cousin's house, and he leaves to SF for work. My brother is busy working.
He tells me about the
Bird Scooters
. Have y'all seen these?? They are everywhere, and super easy to use! Lots of fun zipping around the area on one of these, and they will even give you a helmet!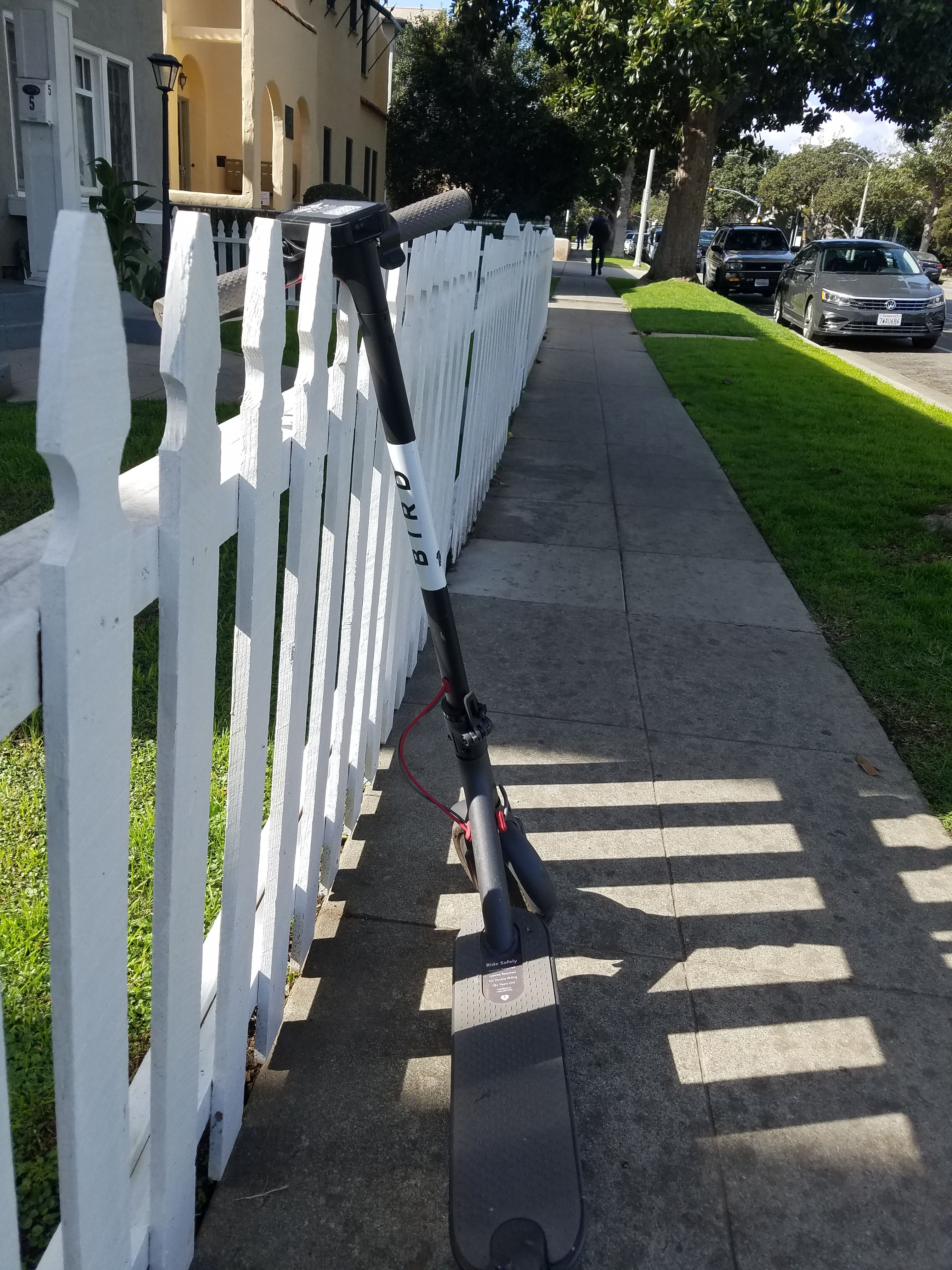 So, I end up chilling solo in Santa Monica. And, that is no problem!
I realized, I can talk to anyone, anywhere, about anything. I end up meeting a South African dude, and his buddies. He works in Animation, and did some of the work on some kids movie about snow that was famous... you know the one.
We end up exchanging Linkedin information, and cracking jokes. They leave and send me to the
Huntley Hotel
for sunset.
It's a fancy joint, and you hit the Penthouse button in the elevator to get there. It's not often in my life I get to hit the 'PH' button, you know?!
Anyway, my brother gets out of work, and meets me there. We have drinks, and explore the city for a few more hours, then make it home. The next day, I am solo again, until the evening time.
Friends, Kismet, Comedy & Music
My best friends happened to be in town. I meet up with them on Thursday, we run around town, and I take them back to the Huntley for Sunset!
They take off, and I end up meeting with another friend's twin sister for a concert at
SoFar Sounds
at
Cross Campus
a Co-Working joint in Santa Monica.
We had never met before, as they live in different cities, but we had a blast together. We actually ended up taking a few of the bands out drinking with us! Two of the women below are from a band from South Africa (3 South Africans met in 2 days).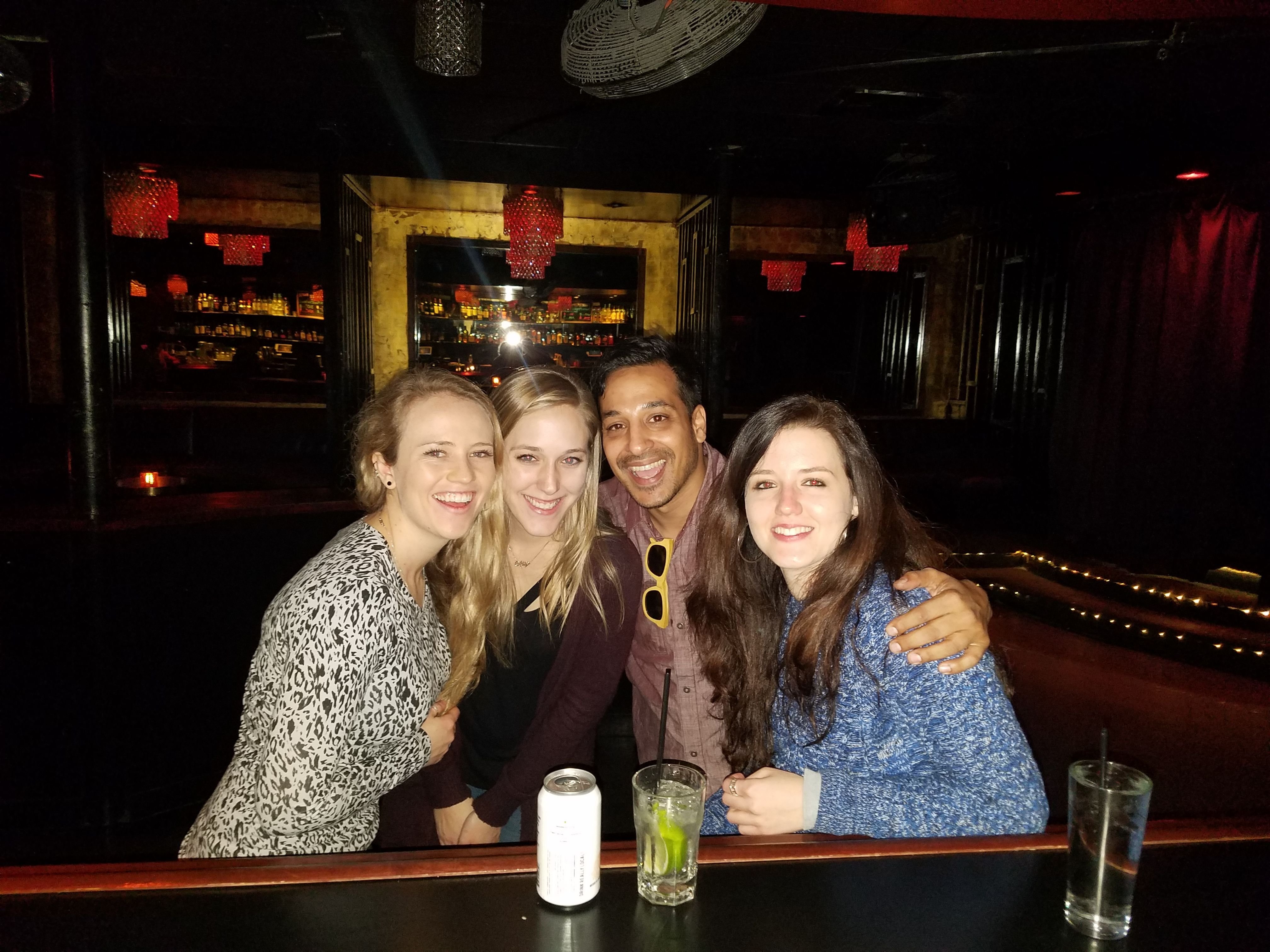 My brother, my cousin from LA, and my cousin from Austin (who flew in that night) FINALLY meet up with me, and we end the night, prepping for the next day.
I Think We Were the Real All-Stars
Friday we take the LA metro train downtown. It's a easy ride, and super cheap! We head down to the NBA All-Star Celebrity Game. My brother, my two cousins, and I are enjoying ourselves and day drinking. It's great!
The game ends, and my cousin and somehow make our way past security and onto the court. I see a bunch of celebs, and take this pic with Common. One of my favorite rappers from back in the days. He used to date Erykah Badu, the crush of my life! Now he is famous for the TV show
The Chi
on Showtime.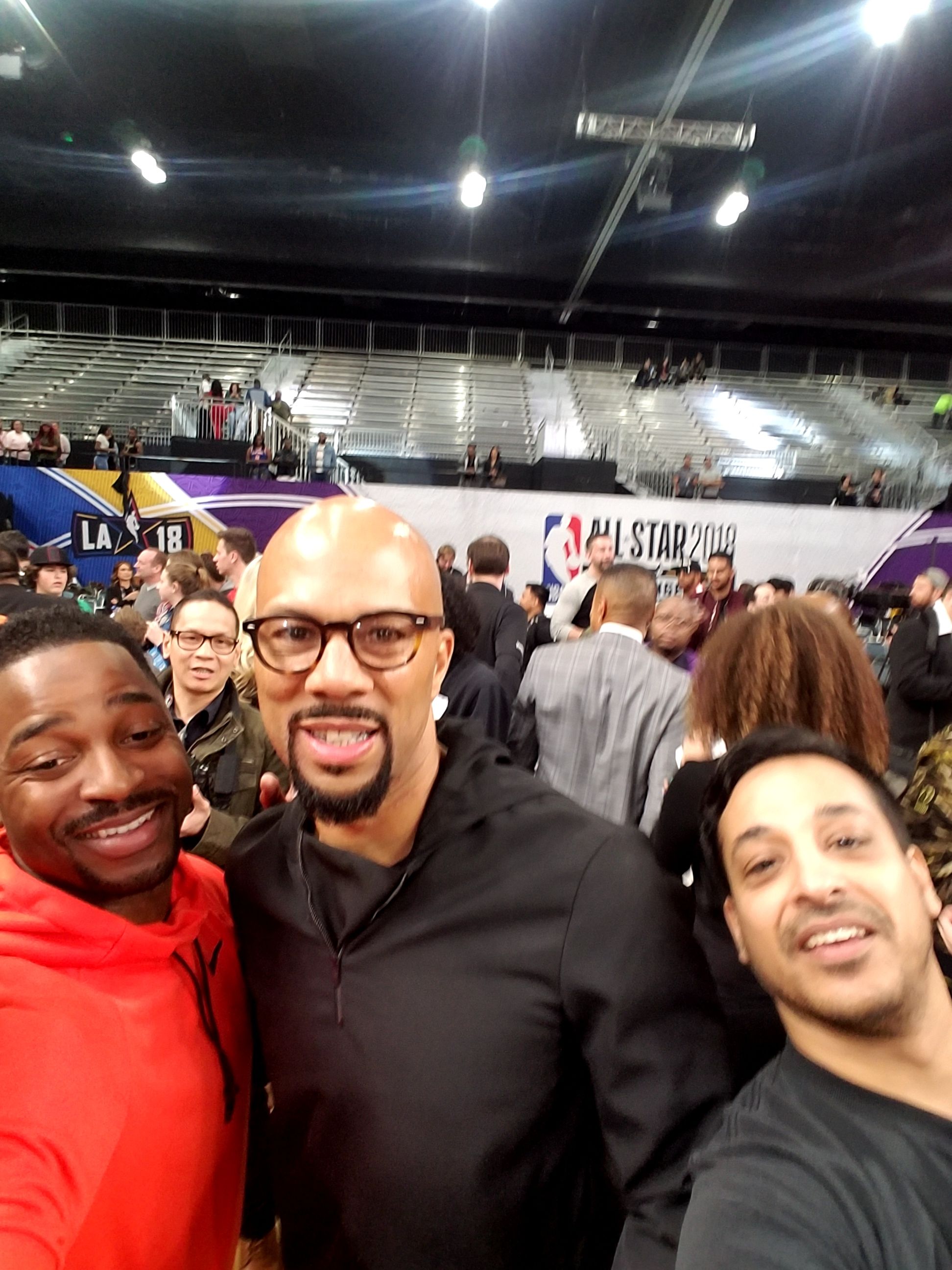 It's not the best picture, but we chopped it up for a second! So, that was cool. Then, my cuz and I are taking fake shots from the free throw line, and getting pictures of it, and finally get kicked off the court! This is after I also try and get into a group picture with the organizers, who immediately recognize I don't belong.
Next, we meet up with some more of my friends, that had just moved to Los Feliz. It's the up-and-coming, hip area around Hollywood. We go to some fun bars, and make it home around 4am. Lot's of drinking, shouting, laughing, and harassing of locals (in a fun and cheeky way).
Saturday, I had RSVP'd for a Domino game. Yeah... this is for real.
There is a Domino League, and they were putting on a tournament. It started at 10am. I woke up at 8:30. Try and take a shower, hungover. No hot water. Fuck this. I was going to give up, but my motto is "Down For Whatever", right? So, I nut up.
Now, I have played dominos my whole life. I know the stats, I can count who has what. But, not as fast as these guys. I was the 2nd person out of the game! It was humbling. What took me 15 seconds to count, these dudes were doing in less than 5 seconds. And, I made a bunch of mistakes.
But, I am glad I did it! It was definitely a highlight!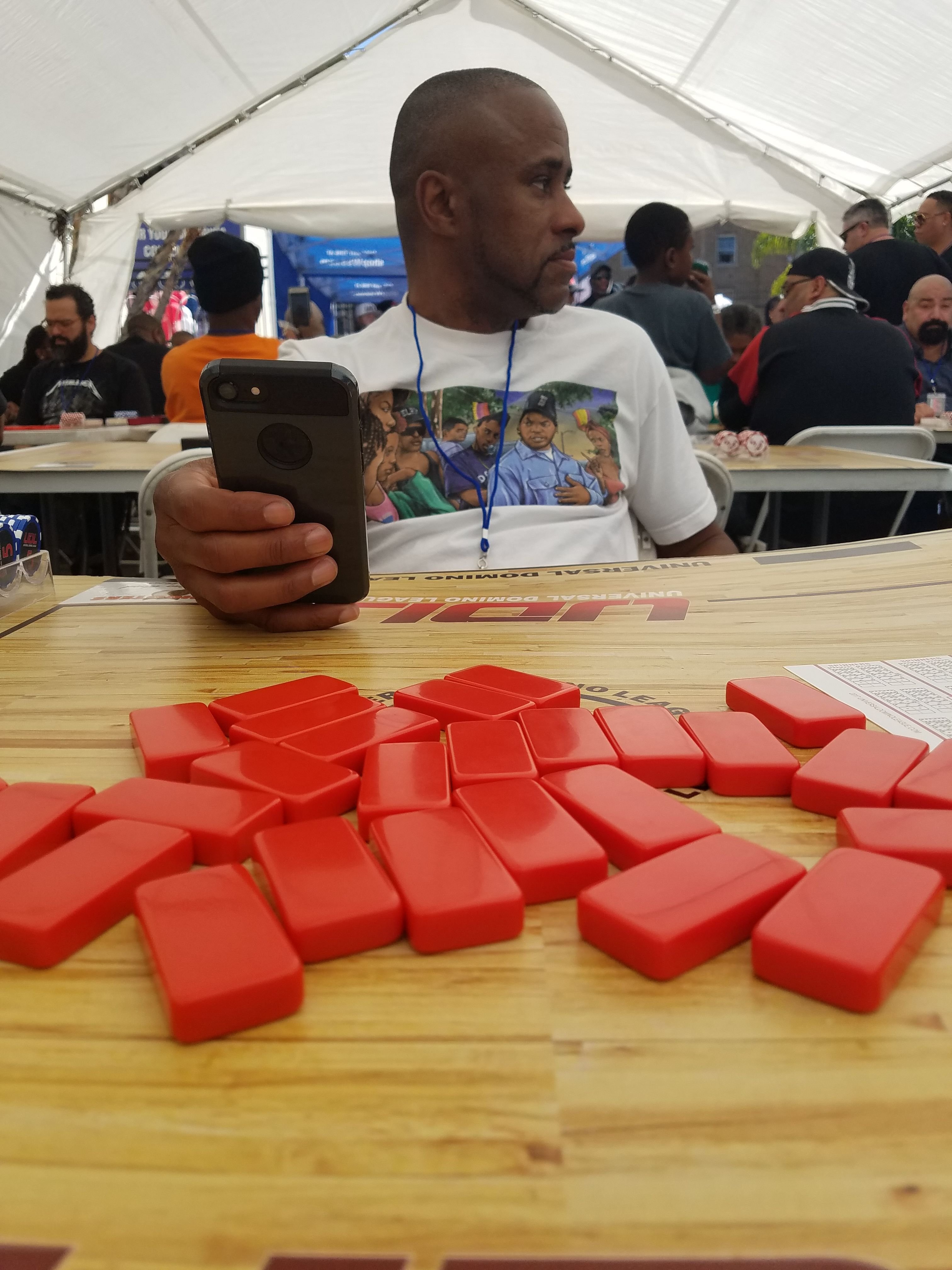 The biggest thing that tripped me out about LA?
I had heard of Skid Row. I knew it was a thing. But this shit was apocalyptic. And, spreading. Did you know people live in tents on the sidewalks in LA?? I did not. It was a rude awakening. I thought you only see tent cities in third world countries. Naw, this shit was right in LA. It fucked me up. How is this a thing in 2018?? It's still on my mind, and I am trying to figure out what I can do to be part of a solution to this issue.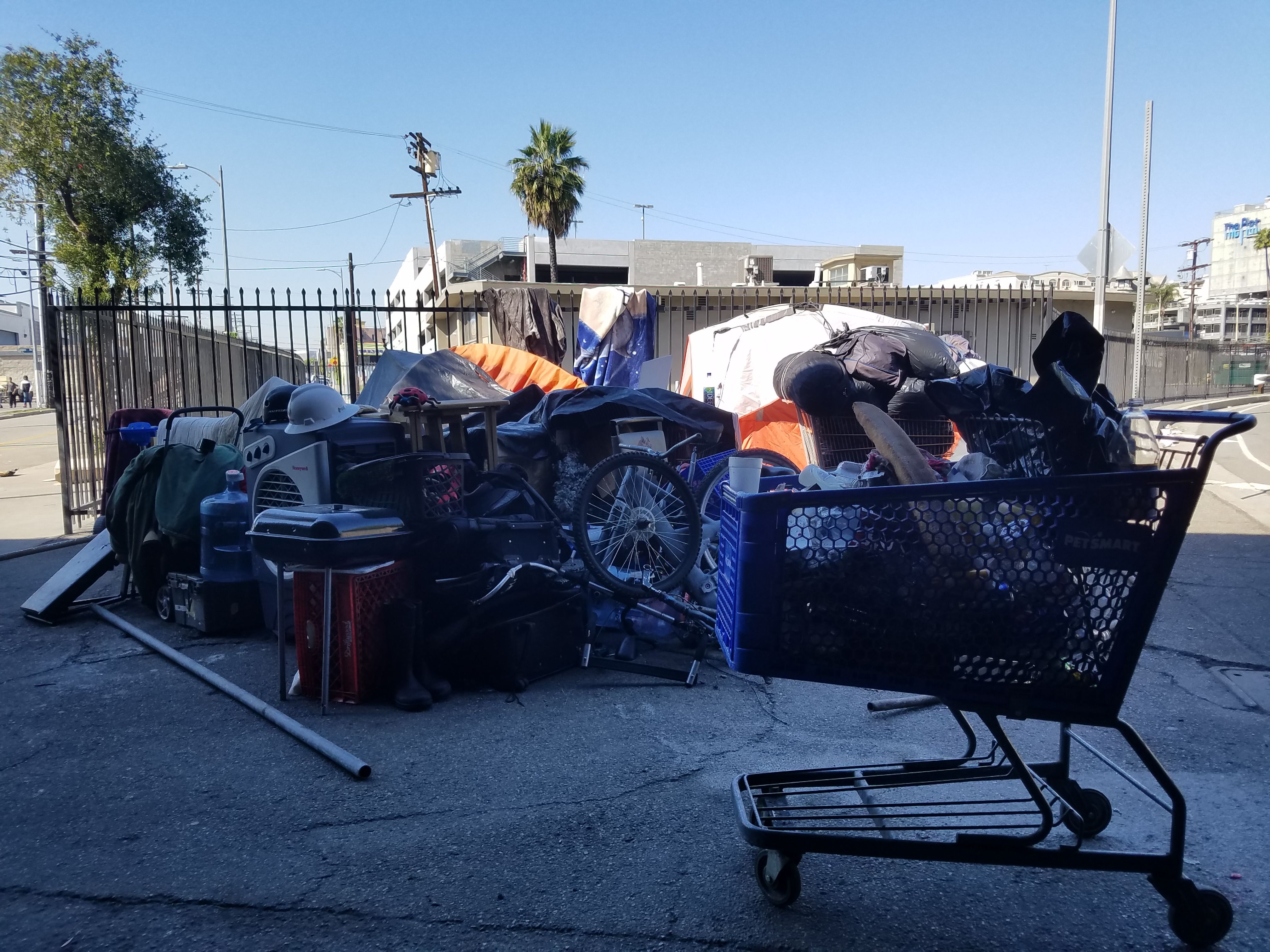 I meet up with my fam, and they were all impressed that I even got up for my tournament! We go have breakfast, day drink, night drink, and I fly out at midnight on the redeye. I had to be back in Dallas for my Non-Book Club (one of these days, I will post about it).
As the Sun slowly sets on LA...
I had a blast being in you, and it was tough pulling out. I learned a lot. Made a bunch of inappropriate jokes. I laughed a ton. I got quality time with my family, and made new friends.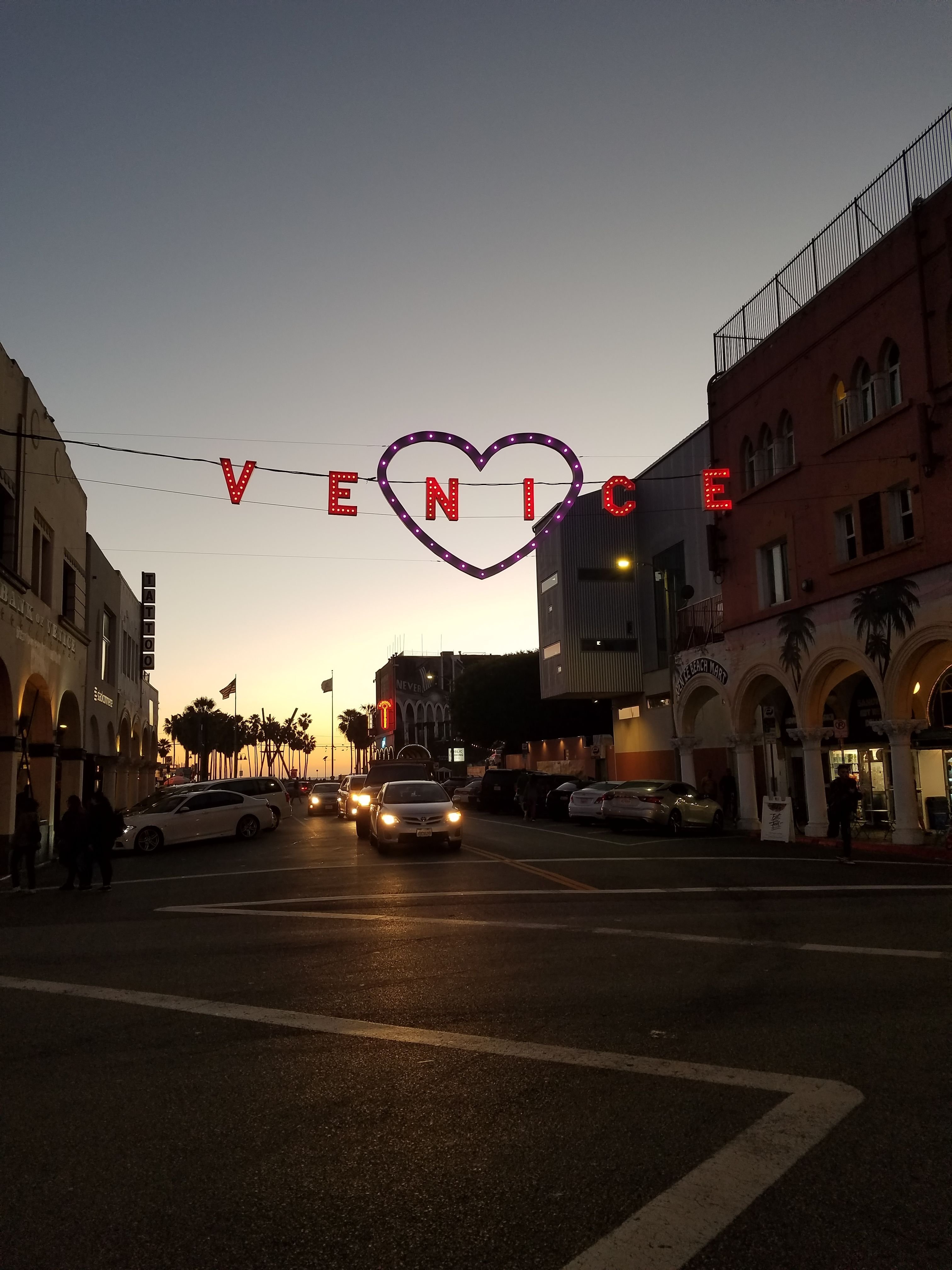 But, it's damn good to be back in Texas. California is crazy. :)